Whether you're planning your honeymoon or are simply after a romantic getaway, do something out-of-the-ordinary with these unforgettable adventures.
When it comes to treating your loved one, thinking outside the box means you'll be in for an incredibly memorable holiday. Yes, dinner and drinks are wonderful, but what about experiencing something new and exciting? If you're starting to plan your honeymoon or are just looking for a romantic getaway to celebrate a birthday, anniversary, or just for the sake of it, make sure to weave in an adventure or two; it'll keep the sparks flying!
Don't forget to start your romantic trip in style with a private transfer to the airport – we work with thousands of airport transfer companies across the world, many of which offer a luxe pick-up for those special moments. Find out more about the different types of transfers available on Jayride.com on our blog.
Surf in Bali
The Indonesian island of Bali is a surfer's paradise. With hundreds of kilometres of pristine coastline and surf conditions to suit all levels, it's a swell place for surfers (pardon the pun). Experts and beginners alike flock here from around the world to catch a few of the crystal-clear barrels in this tropical island paradise. Even if you've never picked up a surfboard before, hitting the waves with your partner in one of the most beautiful places in the world is as romantic as it sounds. If you're already surfing pros, aim for the southern coast around the Bukit peninsula, while beginners might want to join a surf lesson in Kuta, one of Bali's most popular surfing locations. Then afterwards you can head back to your secluded hotel, sip on a cocktail and watch the sun go down – perfection.
Where: Bali is a popular island for holidaymakers in Indonesia. Fly to Ngurah Rai International Airport (officially I Gusti Ngurah Rai International Airport) in Denpasar and take an airport transfer to your preferred surf spot. We work with lots of airport transfer companies in Bali, so head to Jayride.com to pre-book your airport transfer before you fly, so you can hit the surf as soon as possible.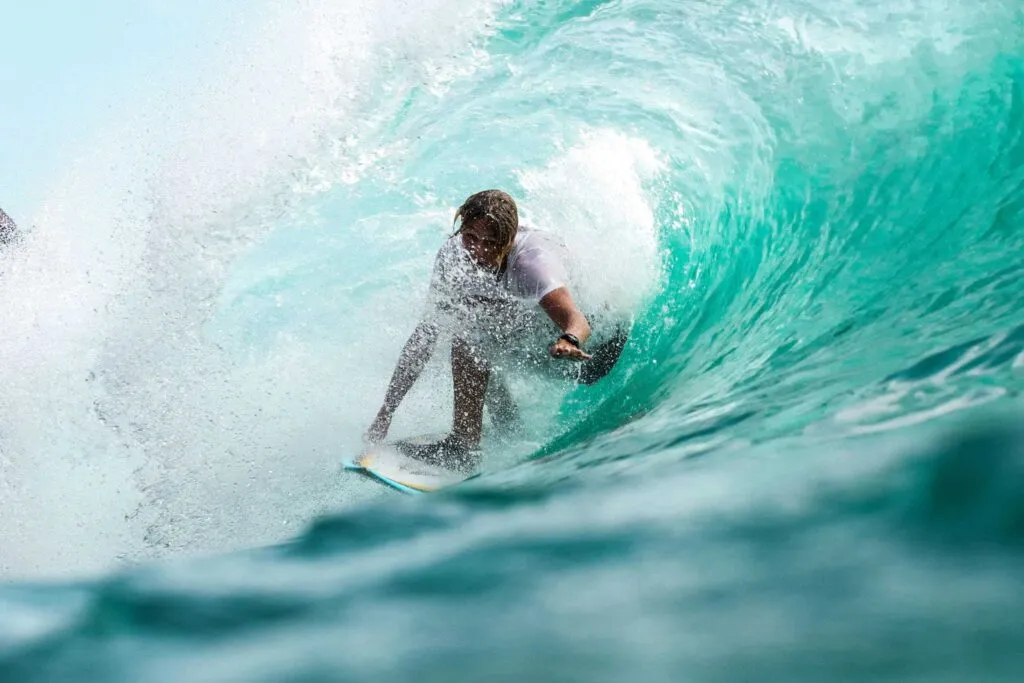 Paddle board in Lake Tahoe
The sheer vastness of Lake Tahoe, which straddles the US states of California and Nevada, is what takes most travellers by surprise. Whether you're travelling here from the semi-arid deserts of Nevada or the soaring peaks of nearby Californian national parks and forests, coming across the 120-kilometre shoreline of Lake Tahoe – one of deepest and highest lakes in the US – will cause a gasp of surprise from every traveller. The colour of the striking blue water is emphasised by the emerald green of the pine trees fringing the lake and the greys and whites of the surrounding snow-capped peaks. The clarity of the lake's waters is astounding, and there's no better way to experience it than by taking to a paddle board with your loved one. Enjoy the calm waters, picturesque views and serene surroundings as you gently paddle your way along the shore.
Where: Lake Tahoe is a large freshwater lake located in the Sierra Nevada Mountains crossing both the US states of California and Nevada. You'll most likely fly to Reno-Tahoe International Airport, which is about 93 kilometres (and a scenic drive!) from Lake Tahoe. Book your private airport transfer on Jayride.com so you can arrive in style.
Camp out in Uluru
At 348-metres high, Uluru is taller than the Eiffel Tower; seeing this impressive sandstone rock formation as it rises up from the ground, surrounded by endless arid desert, is truly unforgettable. For a unique experience, witness Uluru at sunrise or sunset, when the deep red colours of the rock appear to radiate from within. To take things to the next level with a romantic adventure to remember, join one of the many tours in the area that organise sleeping under the stars; what could be more memorable than spending the night in a swag (a cross between a sleeping bag and a tent) in the Australian Outback under millions of stars twinkling overhead?
Where: Uluru is in the heart of Australia's Northern Territory, a true wilderness in the Red Centre. The nearest airport is Ayers Rock Airport, but many visitors will likely fly to the bigger Alice Springs Airport and spend a few nights there first. Book your airport transfer on Jayride.com before you fly.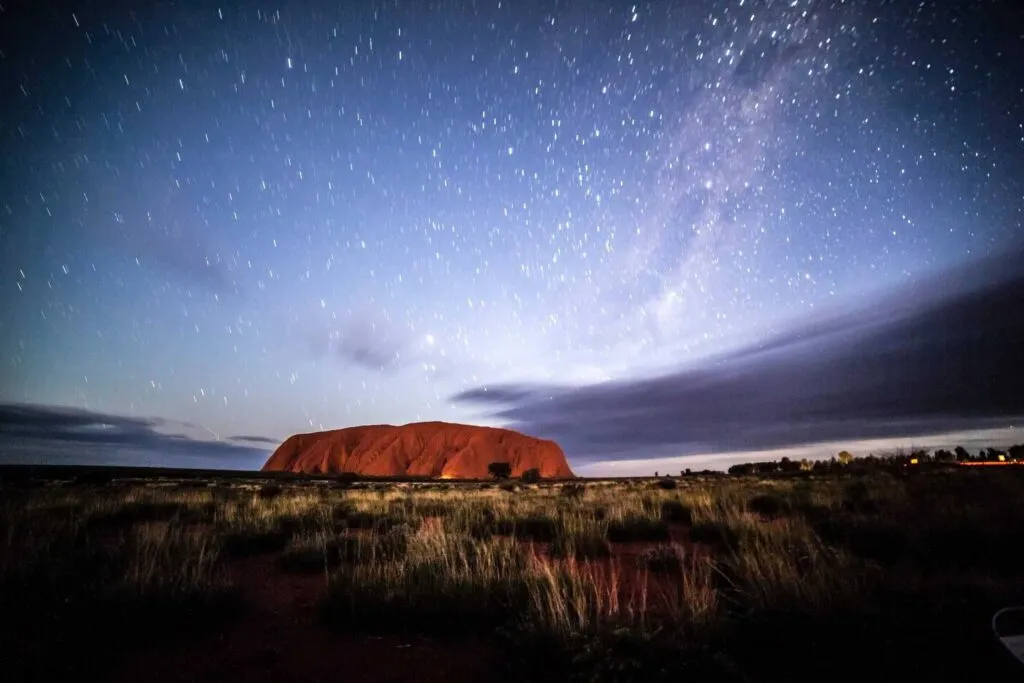 Watch the Northern Lights in Canada
Jasper National Park in the Canadian Rockies is one of the world's largest and accessible Dark Sky Preserves, meaning it makes for an incredible place to watch the night sky come alive with the whirling and swirling colours of the northern lights. What could be more romantic than snuggling up to each other as night falls with only the sounds of mother nature around you, and turning your eyes to the skies above carpeted with millions of stars and painted with streaks of the mystical aurora borealis?
Want more? Read our blog Where To See The Northern Lights In The USA & Canada.
Where: Jasper National Park is in the Canadian Rockies, and is accessible from both major hubs of Edmonton and Calgary, with both Edmonton International Airport and Calgary International Airport the best airports to fly to.
Take a helicopter ride over a volcano in Hawaii
Hawaii is famous for its staggering landscapes; soaring cliffs carpeted in greenery; thundering waterfalls; active volcanoes spitting out molten lava; sparkling shorelines. What better way to take it all in than by helicopter tour? Our pick for the best islands to do a helicopter flight would be Hawaiʻi Island (commonly known as Big Island) or Kauai (Hawaii's fourth largest island). Big Island was formed due to thousands of years of volcanic activity, and is the best choice if you want to try your chances at seeing some bubbling and steaming volcanic activity, as it's home to Kīlauea Volcano, one of the world's most active volcanoes. Kauai is often referred to as the Garden Island and for good reason; verdant mountains and cliffs plummet into impossibly clear waters and hard-to-reach waterfalls dot the landscape, making for an impressive backdrop for a helicopter tour.
Where: Forming part of the US, the islands of Hawaii are located in the Pacific Ocean. Most international flights land in Hawaii's main international airport, Honolulu Airport, on the island of Oahu. From there visitors can take short inter-island flights to the island they need. We work with lots of airport transfer companies within Hawaii, so all you need to do is search, compare and book on Jayride.com, so you can get straight to your helicopter adventures when you arrive!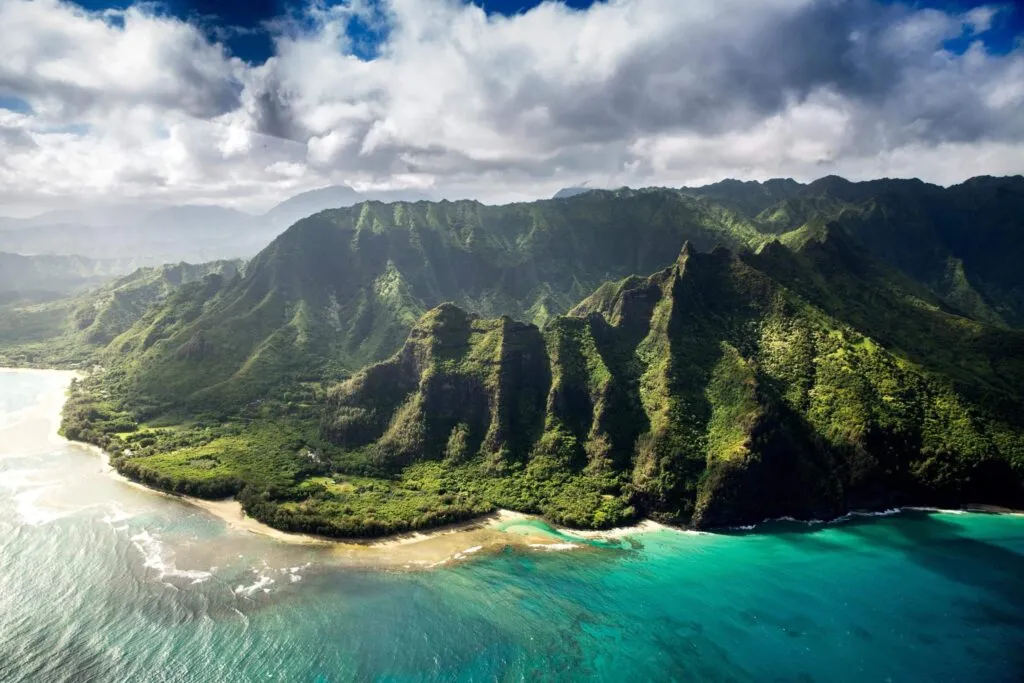 Skydive over Lake Wanaka
Skydiving might not be for the faint-hearted, but it certainly makes for a memorable holiday! Challenge yourselves and head for the skies above one of New Zealand's most beautiful lakes. Located in the impressive alps of New Zealand's South Island, Wanaka rivals Queenstown as an adventure capital of NZ, and draws outdoor-enthusiasts from around the world. Get the adrenaline pumping and bond over shared fear and excitement; even when you have your feet firmly on the ground again and a glass of wine in hand, you'll still be on a high together that will make this a trip to remember.
Where: Lake Wanaka is located in the Otago region of New Zealand. The nearest airports are Wanaka Airport and Queenstown Airport, but many international visitors will first fly into Christchurch Airport.
Spot orcas in the Pacific Northwest
Get up close to pods of orcas as they hunt and play in the waters around the San Juan Archipelago, northwest of Seattle in the Salish Sea. This pinch-me perfect experience is ideal for wildlife-loving and adventure-seeking couples, and the excitement felt at seeing the distinctive black and white colours of these powerful predators and highly intelligent mammals up close is second-to-none. As one of the best places in the continental US to spot orcas, thanks the resident pods who stay around for the salmon-rich waters, and with the backdrop of the verdurous cliffs and shorelines of the islands and the soaring peak of Washington's Mount Baker, this will make a romantic getaway to remember. Plus, staying on the islands adds to a sense of remoteness, so when you snuggle up with a glass of wine back at your hotel at the end of a magnificent day of wildlife watching (the islands are also a great place to see grey, minke and humpback whales, river otters, sea lions, and eagles, just to name a few), you'll feel a million miles from day-to-day life.
Where: Seattle-Tacoma International Airport is the main international airport located near the San Juan Islands. You can book a private airport transfer to Seattle Clipper Terminal on Jayride.com, and hop on the San Juan Clipper catamaran to Friday Harbor on San Juan Island.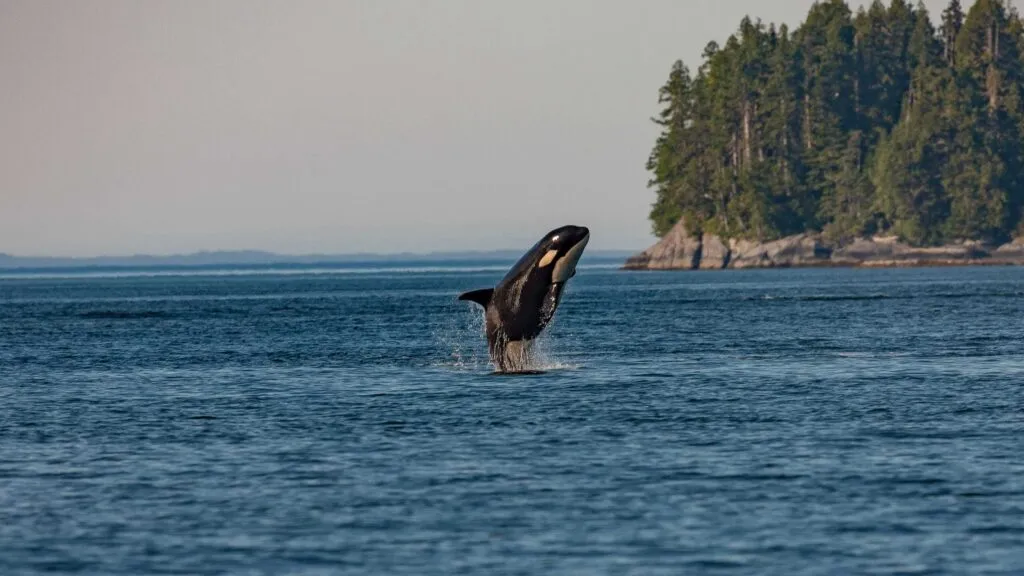 Go horseback riding in Colorado
Imagine riding through prairie grasslands and surrounded by mountain peaks, with the wind in your hair and the sun on your back, then resting your head after your day's activities in the rustic and luxe charm of a ranch. Can it get any more romantic? The western US state of Colorado is the highest-altitude state in America, and is famed for its diverse landscape, from the snow-capped Rocky Mountains and arid deserts and canyons, to green pastures, flowing rivers and glassy lakes. Release your inner cowgirl and boy and stay on a Dude Ranch (guest ranch), where you can ride horseback during the day, and then indulge in a soak in a hot tub or reward saddle-sore legs with a massage, followed by a delicious meal and campfire under the stars. Romance and adventure go hand-in-hand here. Find out more about Dude Ranches on the Dude Ranchers' Association website.
Where: The capital and most populous city of Colorado is Denver, and many international visitors will fly to Denver International Airport, one of the busiest airports in the USA. Book a private airport transfer from Denver Airport and kick-off your ranch holiday in style.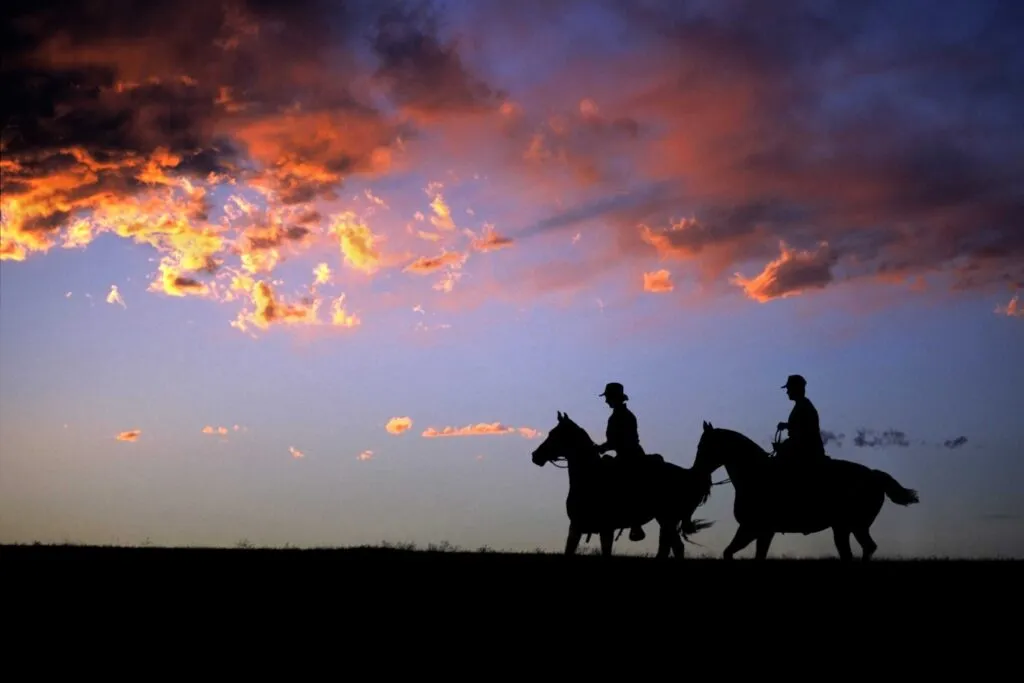 Ride a hot air balloon over Cappadocia
We're ending our list on a high with the idea of gently floating over an otherworldly, moon-like landscape at sunrise. The region of Cappadocia in Turkey is geologically fascinating, and renowned for its unmistakable tall and cone-shaped rock formations known as 'fairy chimneys'. Taking in the landscape by air is one of the most popular experiences here, and it is a magical sight to see hundreds of hot air balloons drift through a sky streaked with the orange red and pinks of sunrise. On the ground, explore the honeycomb-like rock formations of the area, dine in an open-air restaurant and rest your head in a cave hotel. Pure bliss.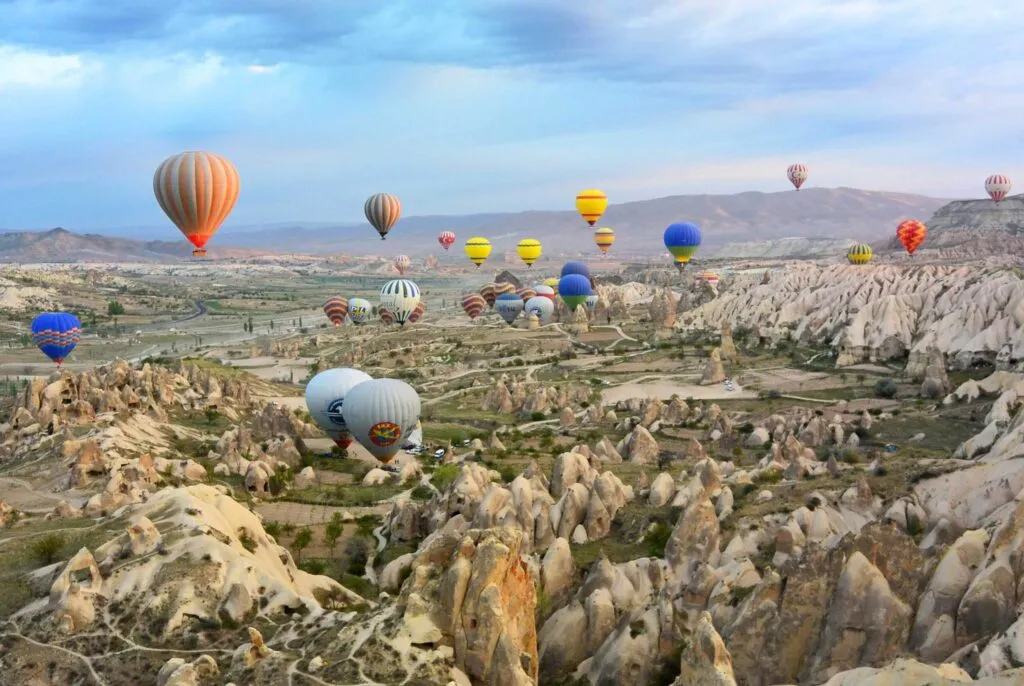 Where: The nearest airport to the Cappadocia region is Erkilet International Airport in Kayseri, but most international visitors will fly into Istanbul Atatürk Airport. Pre-book your airport transfer before you fly on Jayride.com