Whether you're of Irish descent or not, attending one of the world's top 10 St Patrick's Day celebrations is worthy of adding to your bucket list.
Fun Facts About St Patrick's Day
What's all the fuss about? Born in Roman Britain, St Patrick was captured by pirates when he was 16 and brought to Ireland as a slave to tend sheep. He escaped after six years and later returned to convert the island nation to Christianity. As legend has it, he also drove the snakes from Ireland and famously used the shamrock to explain the Trinity.
What is the Date of St Patrick's Day?
St Patrick's Day is March 17, the date of his death. It began in Ireland as a religious tradition and was brought to the United States by Irish immigrants who transformed the holiday into a secular celebration of Irish culture. The holiday is now celebrated worldwide, including places as diverse as Russia, Japan, Argentina, and Australia.
What Color do you Wear on St Patrick's Day?
Whatever St Patrick's Day celebration you attend, be sure to wear green. The tradition dates back to Irish immigrants in the United States who believed that leprechauns couldn't see you if you wore green. According to folklore, the leprechauns would pinch anyone they could see. Many revelers wear all three colors that appear on the Irish flag – green, white, and orange.
Another St Patrick's Day tradition is drinking green beer. It's made by simply adding a drop of green food coloring, which does not affect the flavor.
Top 10 Best Places to Celebrate St Patrick's Day
The best places to go for St Patrick's Day are destinations with lively Irish festivals, parades, concerts, and dance performances, and plenty of Irish pubs and restaurants. Although many municipalities across the globe observe St Patrick's Day with such festivities, we've narrowed it down to the 10 that stand out for their flourish, enthusiasm, uniqueness, and the number of attendees. Although the peak of these celebrations is always March 17, many go on for weeks.
Once you have decided on a destination, be sure to check the updated schedule so you can get the most out of your trip to celebrate all things Irish. To get the most out of the holiday, use Jayride to book your airport car service.
And to avoid the hassle of public transportation and rental cars, you can also use Jayride to find a chauffer-driven vehicle to take you to and from the events. To arrive in style, consider booking a limousine!
Here are our Top 10 Best Places to Celebrate St Patric's Day:
1. Dublin, Ireland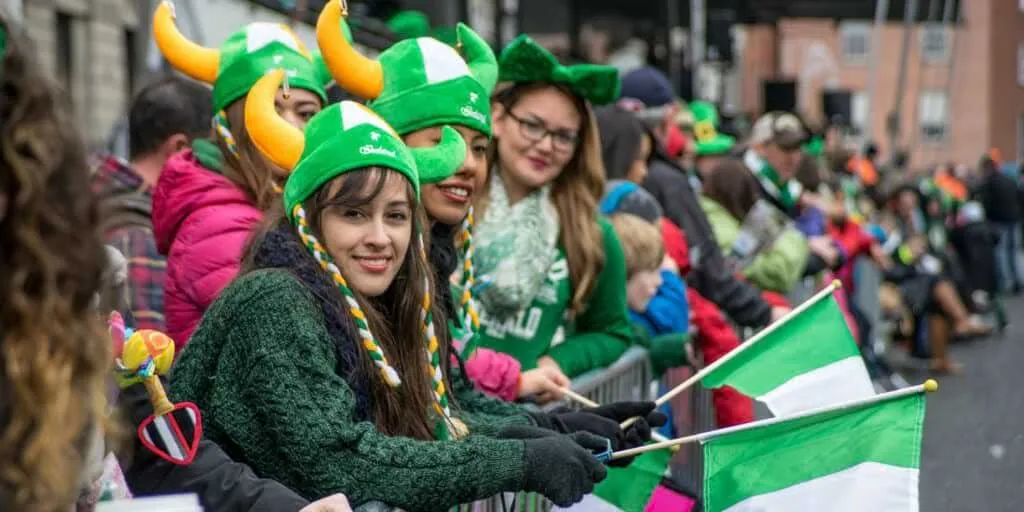 With its dramatic landscape, castles, delicious food, unique pubs, and friendly people, Ireland is a wonderful destination any time of year. Visiting the Emerald Isle for St Patrick's Day is the experience of a lifetime. And for this, Dublin is the destination of choice. The festivities span four days and celebrate all facets of Irish culture. Over half a million people flock to the city to view their St Patrick's Day parade, replete with marching bands, performers of all kinds, and brilliant floats. Be sure to check out the pub scene, where the drinks and good times flow with Irish zeal. In the streets, you'll hear traditional Irish music performed by buskers, and Dublin's many performance venues book some of the nation's top bands. There are also special literary events and art exhibits to celebrate the full breadth of Irish culture and history. Major landmarks are bathed in green light to add to the festive ambiance.
2. New York City, U.S.A.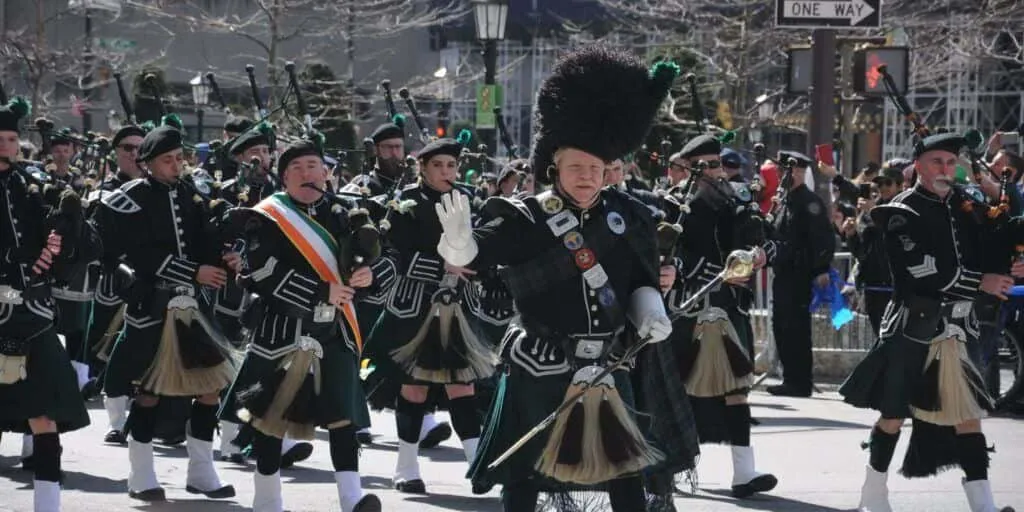 The Big Apple hosts the largest St Patrick's Day parade in the world. Started in 1762 by homesick Irish immigrants and Irish serving in the British army, it is also the oldest. The St Patrick's parade route has always passed by St Patrick's Cathedral, a must-see destination for visitors to New York City any time of year. The six-hour parade up 5th Avenue is an epic spectacle, and many continue celebrating the rest of the day – and into the night – at the many Irish pubs that dot the city. You'll find mouth-watering Irish dishes such as Irish stew, corned beef and cabbage, and shepherd's pie featured at restaurants across this great city.
3. London, England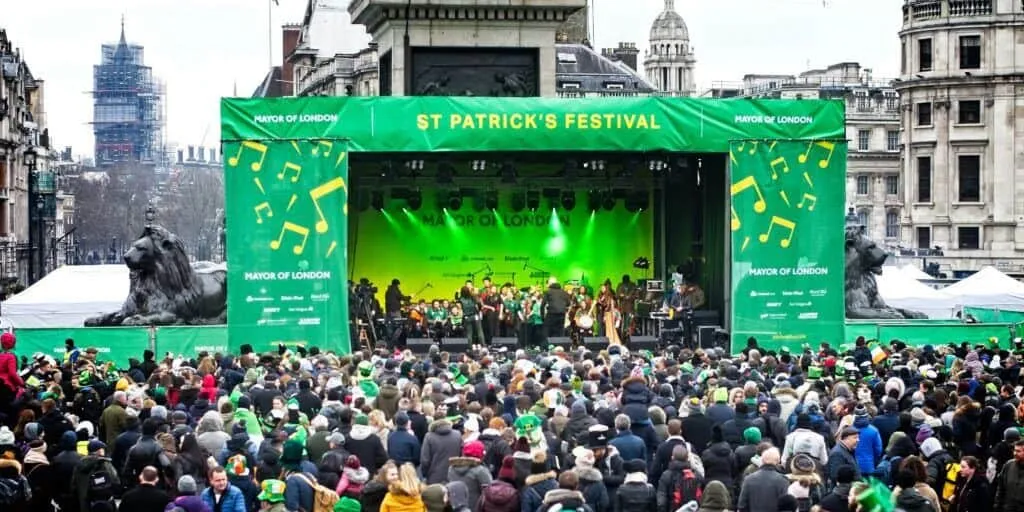 Hundreds of thousands of Irish people live in England, and London has the most by far. As a result, Irish pubs and restaurants are sprinkled throughout the city, and their St Patrick's Day celebrations are among the best anywhere. The epic St Patrick parade begins in Hyde Park Corner and passes many of London's most iconic landmarks. Trafalgar Square is along the route and hosts a huge celebration featuring performances by Irish musicians and booths where craftspeople and vendors sell Irish-themed food and merchandise.
4. Boston, U.S.A.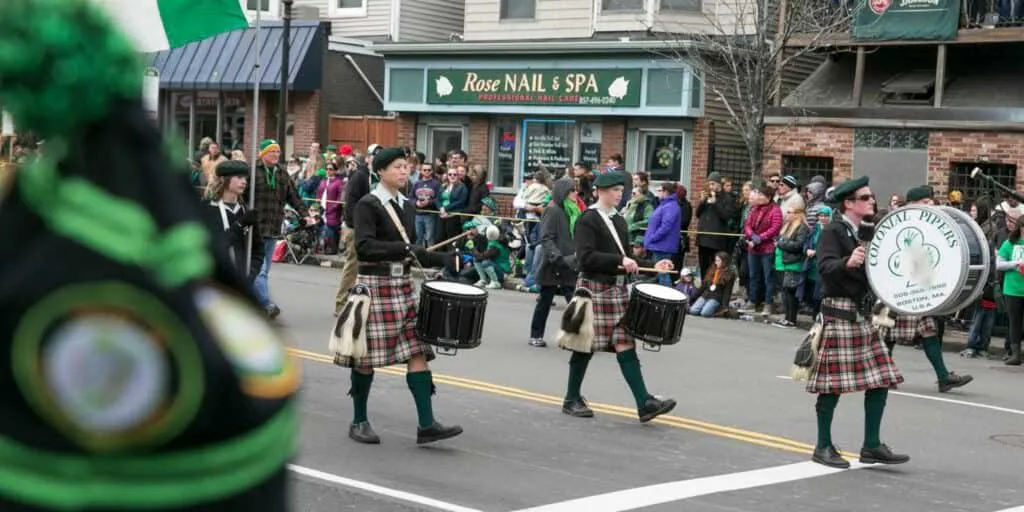 In a city where almost a quarter of the residents claim Irish ancestry, it's no wonder that Boston boasts one of the world's most robust St Patrick's Day celebrations. The festivities begin weeks before March 17 as the city hosts an Irish film festival, concerts of Irish music, and other Irish cultural events. The highlight, of course, is the St Patrick parade which dates back to 1901 and features marching bands, bagpipers, dancers, floats, and colorful costumes. To get a deeper understanding of the breadth and depth of the city's pride in all things Irish, you can take a guided tour of the Irish Heritage Trail that comprises 20 iconic Boston landmarks.
5. Buenos Aires, Argentina
The Argentinian capital is a lively place any time of year. As a result of the city having the fifth largest Irish community in the world, the city turns it up even more on St Patrick's Day and puts on the most extravagant St Patrick's Day party in Latin America. Their epic St Patrick parade ends at Plaza San Martin, and the adjoining celebrations encompass ten city blocks along Reconquista Street. There, you'll find Irish-themed bands and dance troupes, bagpipers, and costumed fairies and elves. There's even a leprechaun costume contest. The festivities last well into the night as revelers continue the party in the many lively bars and nightclubs that Buenos Aires is known for.
6. Montserrat
This overseas territory of the U.K. is the only place besides Ireland and Newfoundland where St Patrick's Day is an official government-recognized holiday. Irish people were originally sent to the island over 400 years ago to serve as indentured servants. To this day, most residents claim Irish heritage. It is different from other St Patrick's Day celebrations as it also commemorates a failed slave rebellion that took place on March 17, 1768. They falsely hoped their enslavers would be too drunk to suppress the uprising. Montserrat's 10-day celebration includes parties, parades, lectures, and other events to pay homage to those who lost their lives in the rebellion and to celebrate the island's history.
7. Chicago, U.S.A.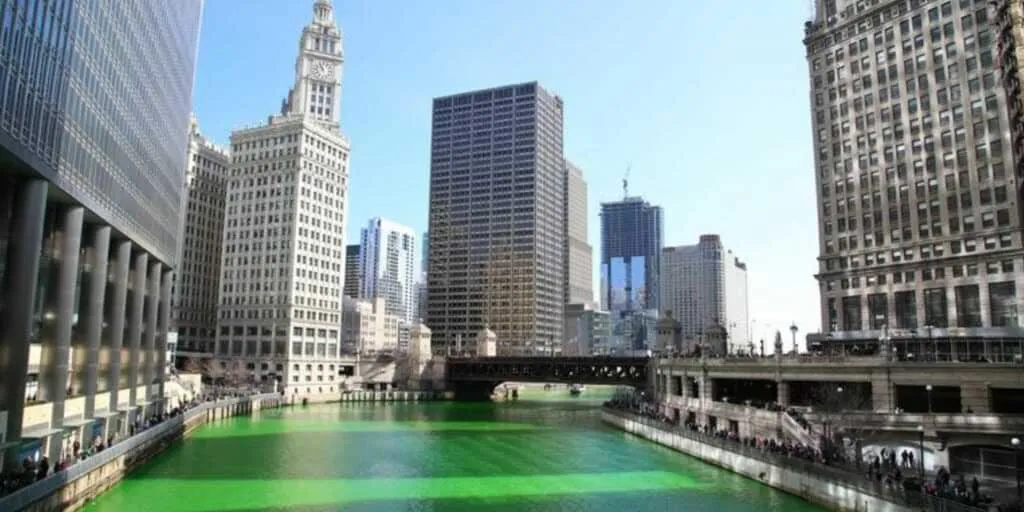 For those wanting a dramatic selfie for St Patrick's Day, there is nothing more iconic than posing in front of the Chicago River, which is dyed leprechaun green for the city's festivities. The St Patrick parade route along Columbus Drive from Balbo Drive to Monroe Drive includes colorful floats, Irish dancers, bagpipers, and marching bands. It is considered the second largest St Patrick's Day parade in the world, although depending on weather, attendance sometimes exceeds that of New York's. As with many St Patrick's Day celebrations, green beer flows from taps in bars across the city. Not to be confined to just one day, Chicago's Irish celebrations last throughout the entire month of March.
8. Sydney, Australia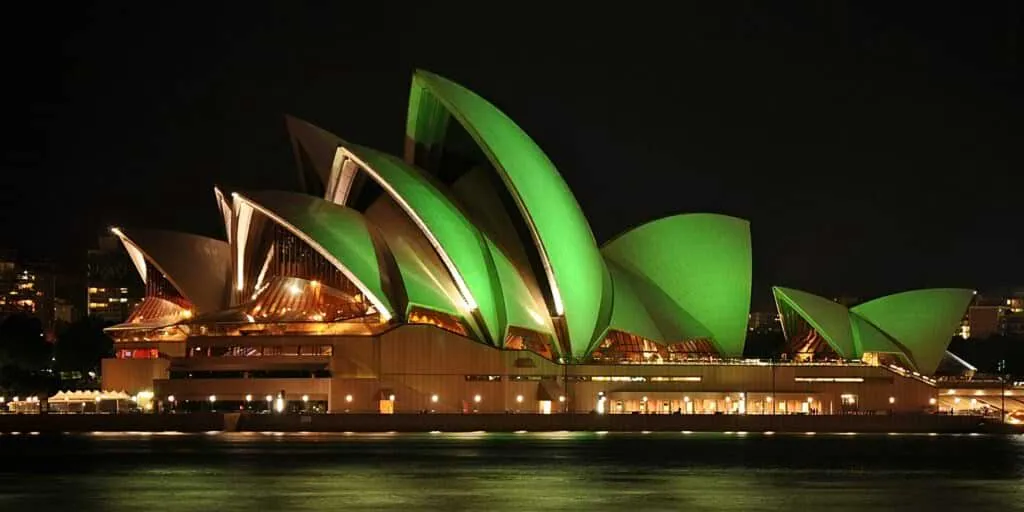 Over 17,000 miles from Ireland, Sydney manages to pull off one of the world's largest St Patrick's Day parades replete with floats, bagpipers, marching bands, costumes, and performers. Before and after the St Patrick parade, you'll find Irish food, drink, dancers, crafts, harp players, and bagpipers in The Rocks, the tourist and historic area of Sydney's city center. From there, you'll view the iconic Sydney Opera House, which glows bright green for the festivities.
9. Savannah, U.S.A.
Southern charm, warmer weather, and a beautiful backdrop make Savannah a tourist's delight for celebrating the Irish. Here, the second biggest St Patrick's Day parade in the United States winds its way through the Historic Park District. You'll see Irish-themed floats, horses, marching bands, dancers, and other performers at the St Patrick parade. Savannah goes all-out and even dies the water in the iconic Forsyth Park fountain a festive green. The St Patrick's Celebration on the River features Irish music and dance performances, games, food, beverages, and an outpouring of local hospitality. The partying continues all night at Savannah's lively Irish pubs. The festivities start at the beginning of the month and include Irish heritage festivals, pub crawls, a 5K Shamrock Run, and several smaller parades and events. Of note is the William Jasper Green ceremony honoring the Irish men who died in the Siege of Savannah.
10. New Orleans, U.S.A.
It should come as no surprise that a city that knows how to party would also be one of the most fun places to celebrate St Patrick's Day. As the busiest entry point for Irish immigrants in the American south, the city's Irish pride runs deep. In fact, the New Basin Canal that connected Uptown New Orleans with Lake Pontchartrain was built mainly by Irish laborers. The festivities last an entire week with Irish music and dance performances, parades, block parties, and pub crawls. Yes, you read that right: "parades", plural! There's the French Quarter Parade, the Downtown Irish Club Parade, the Irish Channel Parade, the Louisiana Irish-Italian parade, and the Metairie parade, which is popular for families and children. The Irish Channel Parade is the largest and includes marching bands, Irish-themed floats, dancers, and costumed performers and marchers. Watch out for flying Irish stew ingredients as participants throw the carrots, onions, potatoes, and whole heads of cabbage to onlookers. Like Mardi Gras, people watch from the ornate balconies above the streets and toss flowers and beads to the crowds below. Those crowds are often dancing to the joyful Irish and jazz music that fills the streets of the Big Easy.
Now that you know more fun facts about St Patrick's Day and the best places to celebrate St Patrick's Day, plan your vacation accordingly. And for the best deals with quality car service companies, use Jayride to book your airport transfers and rides to and from the festivities.