Last Updated on November 17, 2021
It's the start of the holiday season Stateside, so make the most of your time off with an unforgettable Thanksgiving holiday at one of these amazing destinations, perfect for some quality time with the family.
1. New York City, New York
Let's get the big one out of the way first. Since 1924, visitors to New York at this time of year have been treated to the spectacular Macy's Thanksgiving Day Parade. Marching bands, dancing troupes, fantastic floats, and of course, crazy balloon caricatures floating through the city. The parade usually starts at 9am on Thanksgiving morning from Central Park, then follows the 2.5 mile (4 kilometre) path around the park, all the way to 6th Avenue. Even more exciting, you can watch as the huge helium balloons are inflated on Thanksgiving Eve – grab a sneak peak near the Upper West Side, around the American Museum of Natural History. Of course, it's not just the parade that entices visitors; New York is absolutely stunning in the fall, so soak up the holiday season in this buzzing city. Grab some shopping bargains during the Black Friday sales, wonder at the fall foliage in Central Park and marvel at the holiday decorations. 
Getting there: Fly into John F Kennedy Airport or La Guardia Airport, then hop into your pre-booked airport transfer. Shared shuttles from JFK to New York City start from just USD$24.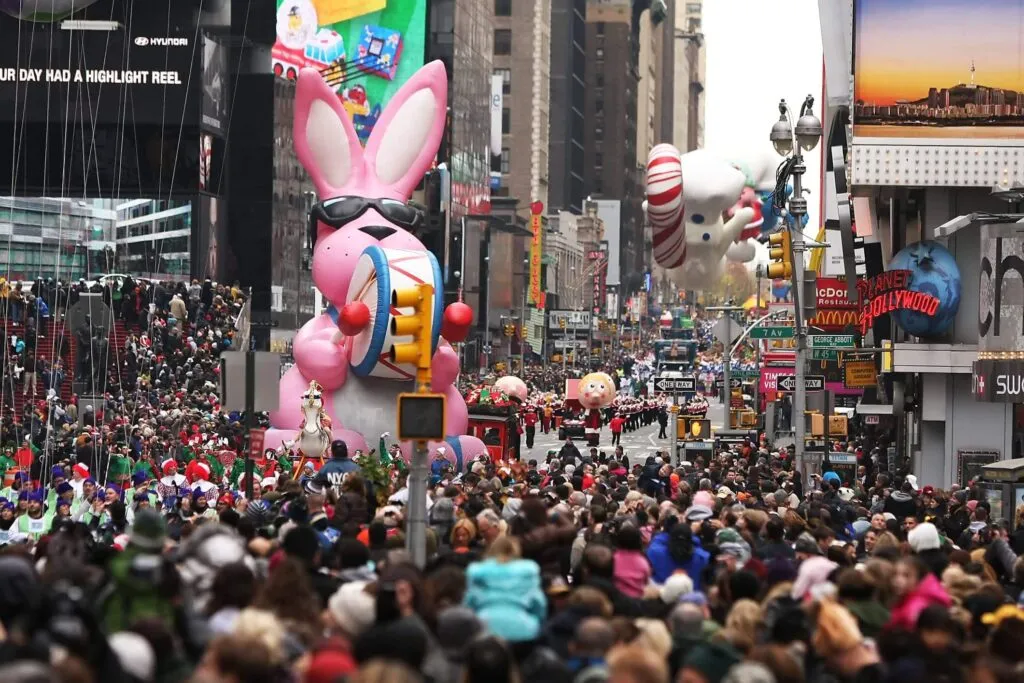 2. Asheville, North Carolina
Asheville is a delightful Thanksgiving destination to visit with loved ones, with plenty to see and do to keep everyone feeling festive and fun! North Carolina is in its prime during the fall, and with national parks and mountains surrounding the town, it's the perfect place to get outdoors for Thanksgiving. Visit 'America's Biggest Mansion', the charming Biltmore Estate that stretches across more than 8,000 acres, to learn about its history (and admire its holiday displays!); enjoy mild temperatures; go leaf-peeping; delight in a tipple at a microbrewery; check out the stunning Blue Park Ridgeway on a hike or drive; or indulge in a delicious Thanksgiving feast at one of the many fantastic restaurants in town.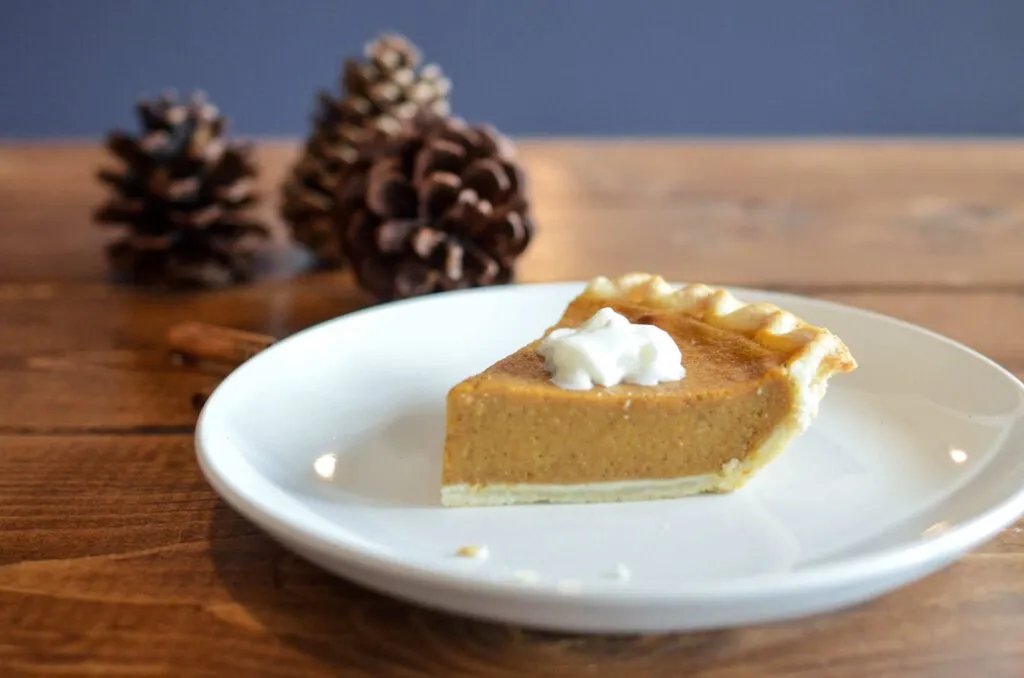 Getting there: Fly into Asheville Regional Airport. There are a number of local airport transfer companies listed on Jayride.com that you can pre-book to transfer you into the city.
3. Phoenix, Arizona
Fall is the ideal time to visit Phoenix; the sweltering heat of the summer months are well behind and manageable temperatures mean outdoor activities are on the cards, so it's ideal for Thanksgiving. Hike through Papago Park, admire the succulents at the Desert Botanical Garden, climb up Camelback Mountain for sweeping views of the city, or say hello to the animals at Phoenix Zoo. Looking for relaxation? There are numerous top-end spas for some well-deserved indulgence, or if golf is more your style, head over to the designer golf course. As for Thanksgiving festivities, if you'd like to earn your turkey before you eat it, then take part in the Phoenix Turkey Trot; an easy, flat walk or run that takes place on Thanksgiving Day. Starting off in downtown Phoenix, it features a 5 kilometre and 10 kilometre option, depending on how fit you're feeling, plus a 'one mile dash' for little ones to take part in, too. Expect to see plenty of costumes for the occasion, pumpkin pie at the aid stations along the way, and a whole lotta Thanksgiving fun! 
Getting there: Flying into Phoenix Sky Harbor International Airport. Shared shuttles from the airport to downtown Phoenix start from just USD$15 on Jayride.com.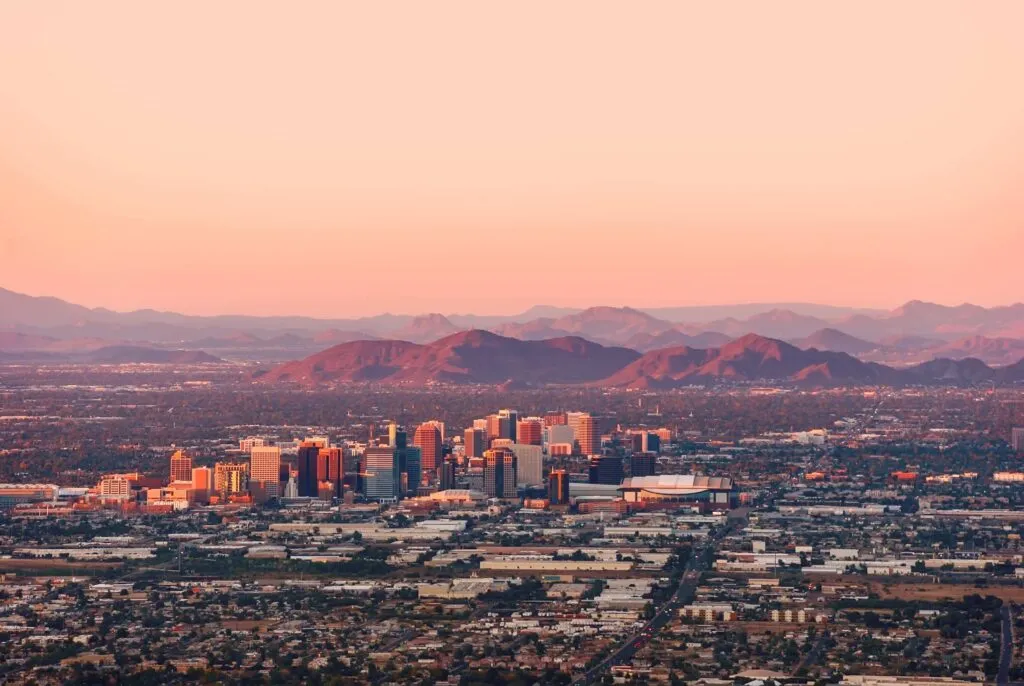 4. Palm Springs, California
Looking to escape the chaos and busyness of nearby Los Angeles for Thanksgiving? Then take the short drive down to the quiet desert town of Palm Springs. Whether you want to stay in a traditional hotel or luxurious resort, there are plenty of options for a family vacay. Unplug with loved ones as you bask in warm weather, take the kids for a ride up the Palm Springs Aerial Tramway, explore the town slowly with a walking tour, discover the exciting plants at Moorten's Botanical Garden… take it slow and steady while you give your thanks for the past year. 
Getting there: The closest airport is Los Angeles International Airport (LAX).
5. Park City, Utah
If you'd prefer a drop in temperature for Thanksgiving, then head to the slopes of Park City, Utah, to kickstart your winter. Skiers and snowboarders can enjoy access to the Park City Mountain Resort from mid-November with less crowds than during the peak-season winter months. Once you've worked up an appetite on the slopes, it's time to hit up one of the many restaurants in town offering festive Thanksgiving feasts; you can be sure turkey will be on the menu. Then, why not check out some local art in the Park City Galleries, take the family to watch a show at the Egyptian Theatre, or visit the Olympic Park, where professional athletes train. 
Getting there: The closest airport is Salt Lake City International Airport. Park City is about 60 kilometres away and can be easily reached by private transfer on Jayride.com directly from the airport.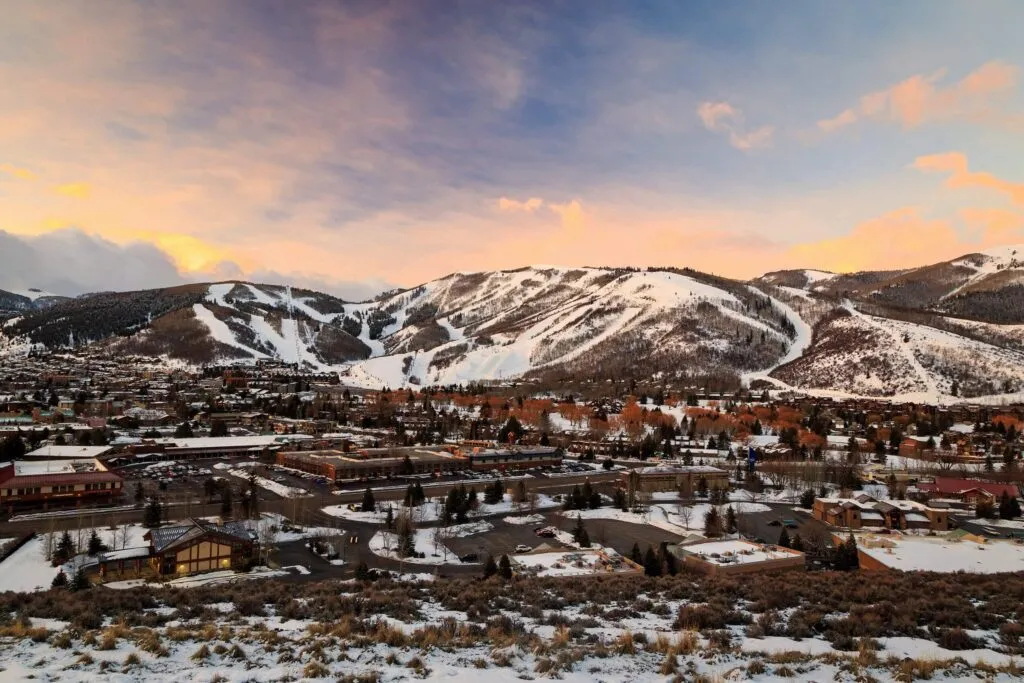 6. Key West, Florida
If charming bed and breakfasts with pleasant November weather at the southernmost point of the US sounds like your ideal Thanksgiving getaway, then you'll love Key West at this time of year. It's the least-crowded time to visit this otherwise very popular and busy party town, and the perfect place to relax as you watch an epic sunset, channel your inner Ernest Hemingway at Sloppy Joe's Bar, wander through the exciting Duval Street full of enticing bars and restaurants, or walk along the beach and admire the unusual architecture. For the adventurous, you can try your hand at the many water sports on offer, such as snorkelling or jet skiing, before indulging in a Thanksgiving feast at one of the restaurants that open its doors during the holiday season. 
Getting there: The closest airport is Miami International Airport.Take the stress out of Thanksgiving travel with a pre-booked airport transfer on Jayride.com. Search and compare thousands of airport transfers in one easy, convenient place.