Last Updated on October 8, 2018
Sydney has enough iconic sites and gorgeous beaches to keep any visitor entertained for days, but there are some must-do day trips that shouldn't be missed on a visit to Australia's biggest city. In just a few hours' drive you can be in some of the oldest, most spectacular and incredibly beautiful areas of Australia.
You've landed in the Harbour City and caught your airport transfer to your accommodation, now it's time to plan your time in Sydney. Whether you're here following your team for the Ashes, you're on holiday, or even on a business trip, here are our pick of six of the best day trips that we think everyone should do on a trip to Sydney.
1. Hike in the Blue Mountains
Only a couple of hours' drive or train ride from Sydney is one of Australia's best-known outdoor playgrounds. The Blue Mountains are named for the fine mist of eucalyptus oil that discharges from the leaves of the dense forest there that, in hot sun, creates a magnificent blue haze. Through the ethereal mist, make sure to spot the Three Sisters rock formation from Echo Point Lookout, wander round the historic town of Katoomba, or take a ride on the Scenic Skyway, a glass-bottomed cable car that gives 360-degree views of the Mountains and Katoomba Falls. You can also test your nerves on the Scenic Railway, the steepest passenger railway in the world, and marvel at the incredible Aboriginal art in the area, including Red Hands Cave. If you're looking to get the blood pumping, there are endless amounts of hikes, ranging in difficulty and length, to keep even the most adventurous entertained.
Don't miss: Hikers should make a beeline for the Grand Canyon circuit. This 6.3 kilometre trail will take you to the heart of this World Heritage-listed landscape. Waterfalls, creeks, lush native flora and fauna, and impressive sandstone walls are all on the agenda on this Level 3 hike.
2. Explore the beautiful Royal National Park
As the world's second oldest surviving National Park (after Yellowstone), a trip to the Royal National Park is a must. Only an hour from Sydney, a day out in this 15-hectare nature wonderland is the epitome of a Sydneysider's day trip. Trails that reward hikers with sweeping panoramic views of the Tasman Sea, off-the-beaten-track beaches such as Wattamolla Beach, ancient rock engravings, iconic landmarks like Wedding Cake Rock and the Figure Eight Pools (only accessible during low tide), and hidden swimming holes are highlights for many visitors.
Don't miss: The renowned Grand Pacific Drive begins from the Royal National Park, so whether you've got a few hours or a few days, experiencing some of this incredible 140-kilometre scenic coastal drive is a must. Highlights include the magnificent Sea Cliff Bridge and coastal towns of Kiama and Shoalhaven.
3. Go wine tasting in the Hunter Valley
Just over two hours from Sydney is Australia's oldest wine region, world-renowned for its shiraz and semillon. With more than 150 wineries, cellar doors and winery tours are a great way to explore the celebrated fruits of the Hunter Valley. It only takes 40 minutes to drive from one end of the valley to the other, but the region is as famous for its spas, fine dining and outdoor adventures such as hot air ballooning as it is its wines, so there's plenty to keep you entertained if you're looking for activities other than wine tasting. There are day tours from Sydney as well as within the Hunter Valley, which makes this the perfect destination for a day out or even a cheeky weekend away.
Don't miss: Although it's only a couple of hours from Sydney to the Hunter Valley on the M1 route, take the time to do the scenic trip on the Great North Road, a historic route originally built to connect Sydney to the fertile lands of the Hunter Valley.
4. See the whitest sand in the world at Hyams Beach
It's quite a title to be named the whitest sand in the world by the Guinness Book of World Records. But this little slice of paradise certainly lives up to its crown. Hyams Beach is part of Jervis Bay, and is about three hours' drive from Sydney. Though it's a bit of a push for a day trip, seeing the white sand, incredible clear blue waters and the surrounding hinterland is completely unmissable.
Don't miss: Stop in the coastal town of Kiama on your way down to see the famous Kiama Blowhole, a natural rock formation that blows seawater 20 metres into the air. See if you can spot any of the local wildlife when you're there – in season, this is a great area for seeing migrating whales.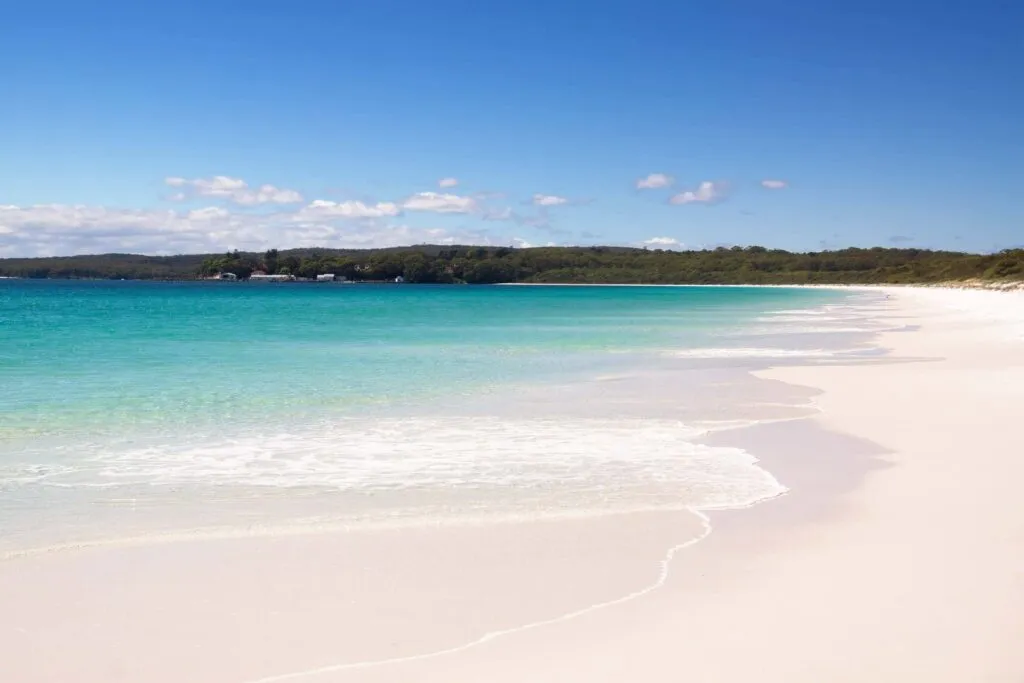 5. Kayak in Kangaroo Valley
One of the best ways to explore this beautiful valley just two hours south of Sydney is kayaking down the Kangaroo River. Spot the native wildlife – from kangaroos and wombats to wallabies and the elusive platypus – and enjoy the beautiful scenery as you paddle down the tranquil river. For some on-shore exploring, check out the many hidden gems of the valley, which is nestled between the Cambewarra and Barrengarry mountains. The main street of Kangaroo Valley dates back to 1870 and is home to a famous pie shop (a great spot to pick up lunch), and nearby are the historic Hampden Bridge – Australia's last surviving wooden suspension bridge – and beautiful Fitzroy Falls. It's the spectacularly green hills and beautiful landscapes that will stick with any visitor though.
Don't miss: Nearby Berry is a charmingly quaint village in the Southern Highlands. Catch a classic car festival, browse the antique shops and numerous boutiques, and absolutely try a donut from the Berry Donut Van, a 55-year old institution.
6. Head up to the Central Coast
Just an hour away from Sydney and perfectly located between New South Wales's capital city and Newcastle is the beautiful Central Coast. The perfect escape for many Sydneysiders during the busy summer months, the Central Coast is blessed with golden beaches, pretty hinterland and lakes galore. Head to popular Terrigal Beach to soak up the seaside town atmosphere, or catch some waves at popular surf spot of Avoca Beach. Water-lovers should head to The Entrance, where you can while away the day on the lake or the ocean, and for even more water sports adventures, carry on north to Lake Macquarie, Australia's largest coastal saltwater lake – it's twice as big as Sydney Harbour.
Don't miss: Take a detour to the Hawkesbury River on your way to or from the Central Coast and jump on a river cruise to explore this beautiful and historic area.
If you haven't booked your airport transfer yet, did you know that many of our transfer companies go the distance and can take you up to 250 kilometres from most airports? So whether you're staying in and around Sydney, or if you're heading further out to stay in one of these day trip destinations, compare and book airport transfers on Jayride.com.
In Sydney for the Ashes and want to know a bit more about what's going on? We've got just the article for you here.