Last Updated on October 7, 2022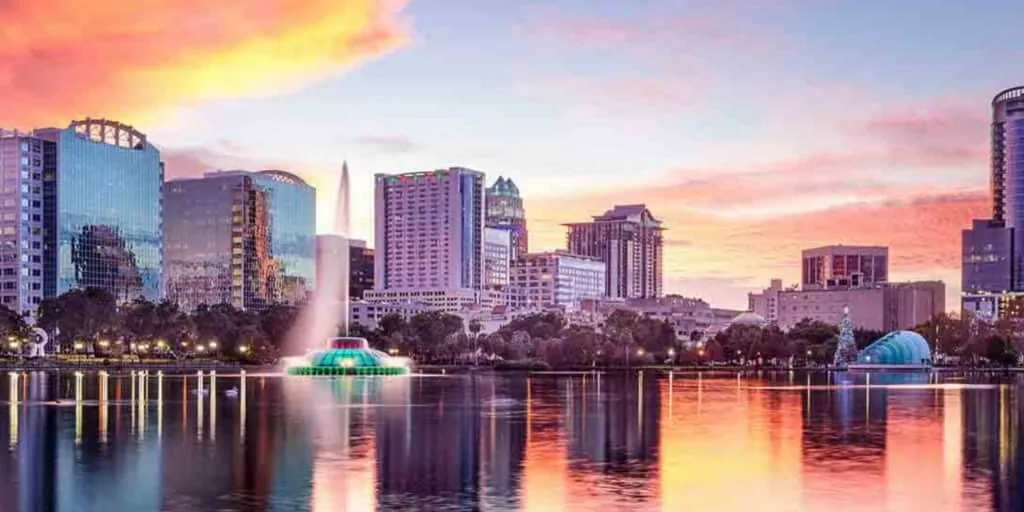 Orlando, Florida!
In a typical year, over 70 million people visit Orlando, Florida, making it one of the world's most popular destinations for business, leisure, recreation, adventure, and sightseeing. The city is home to a dozen large theme parks, including Walt Disney World, SeaWorld, and Universal Studios.
Orlando has something for everyone, including a seven million square foot convention center, dynamic nightlife, 25 golf courses, and all the amenities of a modern American city. The restaurant scene encompasses the best of international and home-grown cuisine.
With so much to offer, Orlando is a lively, year-round destination for business travelers, families, couples, and anyone searching for a getaway in a fun, welcoming city with a warm climate.
Top Orlando-Area Attractions
Your personal top attractions list will depend if you are visiting Orlando as a family looking for fun, a couple looking for romance, a professional in town for business, or a college student on spring break. We could include a section in this blog called "100 Great Orlando Attractions" and the list still wouldn't cover the wide range of things to see and do here. And don't forget, there are an untold number of sandy, sun-soaked beaches an hour east on the Atlantic coast or an hour west on the Gulf Coast. Are your bags packed?
The Walt Disney Parks are far and away the most famous and popular attractions in the Orlando area with four theme parks. The most well-known is the Magic Kingdom with the iconic Cinderella's Castle at its center. Epcot Center is an exposition-style park where you can travel the world by visiting the various international pavilions in the World Showcase. At Hollywood Studios, you can experience the magic of movie-making. In the Animal Kingdom, you can see free-running African animals or take a roller coaster ride that ends in an encounter with a Yeti. There are numerous rides and encounters with Disney characters throughout the parks, as well as regular parades and fireworks shows.
> Book a Car Service to Walt Disney Park from Orlando Airport
Universal has three individual parks. The Universal Studios theme park creates an interactive experience with film-making and includes thrilling movie-themed rides. Islands of Adventure comprise eight themed islands, each dedicated to a different film franchise. The Wizarding World of Harry Potter recreates the magical world from the Harry Potter books and movies, including Hogwarts Castle.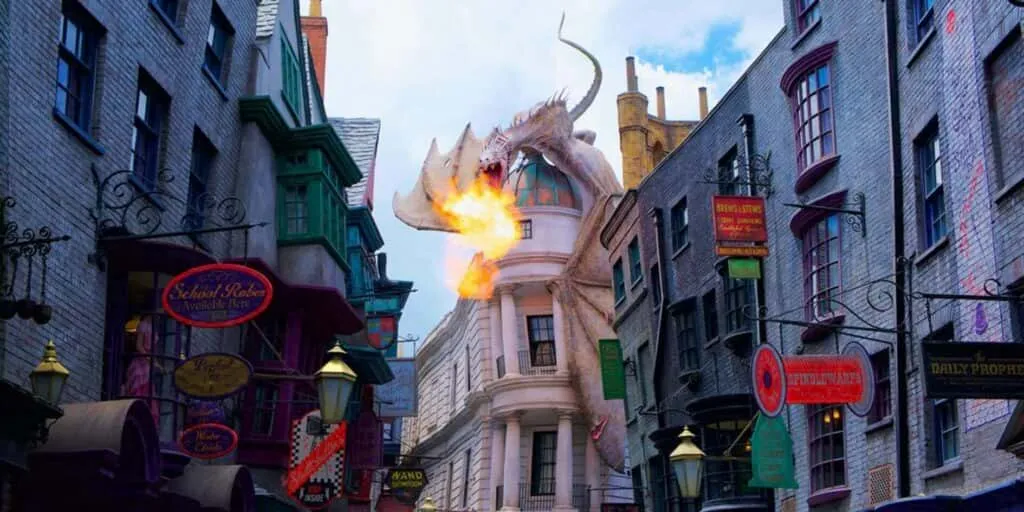 SeaWorld is famous for its whale and dolphin shows, large aquariums, touch pools, and exciting rides. You can see Orca whales, penguins, sea lions, and even sharks. On weekends you can catch an extraordinary fireworks display.
> Book a Car Service to Seaworld from Orlando Airport
The Kennedy Space Center is a one-hour drive from Orlando. The Heroes and Legends Exhibit highlights the engineers and early astronauts who pioneered humanity's journey into space. You can view the rockets from the Apollo, Gemini, and other space programs in the Rocket Garden. One of the most impressive exhibits is the Space Shuttle Atlantis. You can also participate in mock astronaut training or view a space-themed movie in an on-site IMAX theater. Check the launch schedule when you plan your trip so your visit coincides with a rocket launch at the Cape Canaveral Air Force Station.
> Book a Car Service to Kennedy Space Center from Orlando Airport
Located just 15 minutes from the airport, the Orange County Convention Center is the second- largest convention facility in the United States. The venue hosts around 250 events per year with an astounding 46,000 hotel rooms in the vicinity.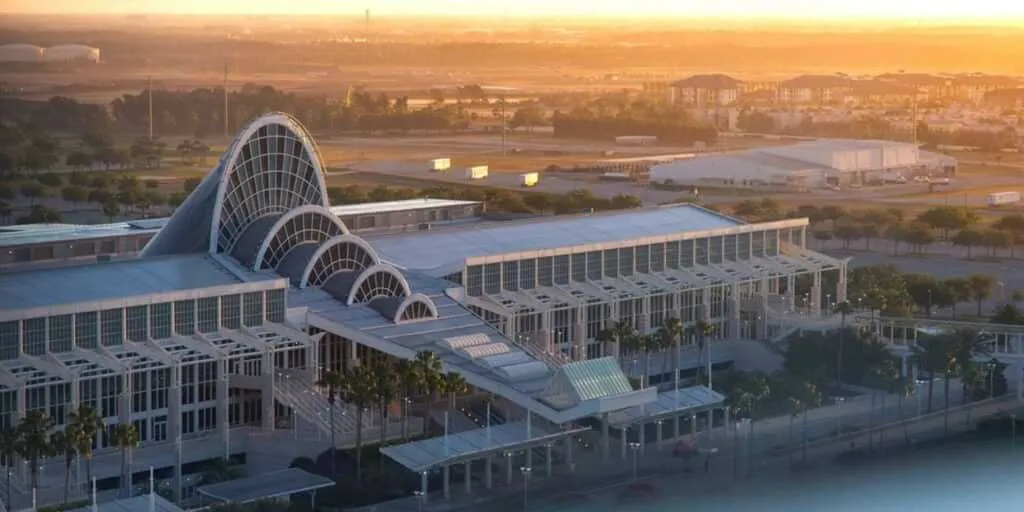 When you arrive at the airport, no matter where you're lodging, consider using Jayride to book an Orlando airport car service. All of the Orlando/South Florida attractions are also reached by Orlando town car services, Orlando Airport limo services, and other Orlando transportation services.
Orlando Airport Guide
The vast majority of visitors to Orlando arrive at the expansive Orlando International Airport (MCO). It's the busiest airport in Florida and the 10th busiest in the United States, handling over 50 million passengers per year on over 40 different airlines. On an average day, 850 flights take off and land at MCO. Since Orlando is a destination for so many families, MCO is one of the most child-friendly airports in the world.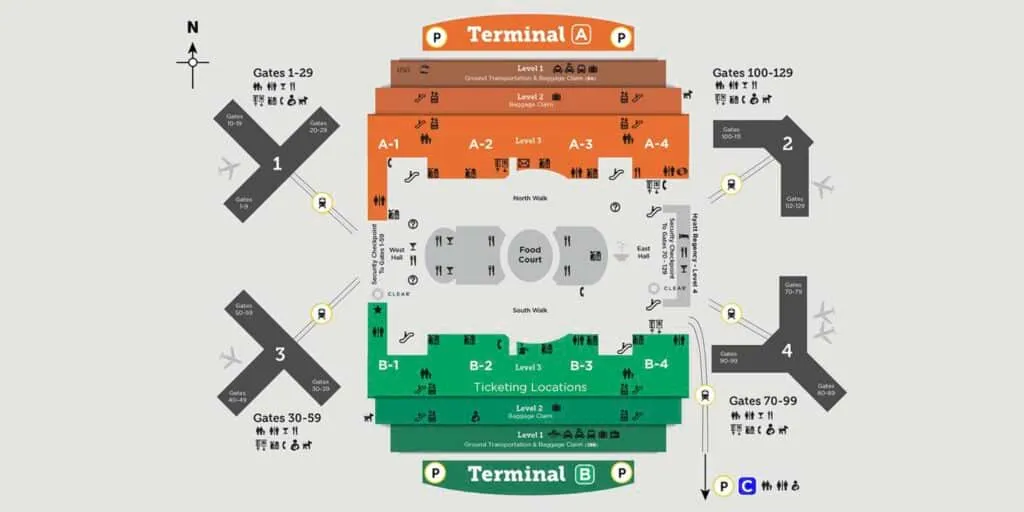 If you are new to MCO, consider using the interactive kiosks where you can search for your gate, find food and shopping options, and map out your destination. At the central hub at the confluence of the two terminals (A and B), there are numerous shops, including stores for Disney, SeaWorld, and Universal Studios. Free WiFi is available at five different lounges throughout the airport.
Because MCO is such a busy airport, it's advisable to arrive three hours before your flight during peak tourist seasons such as Thanksgiving, Christmas, Spring break, and summer vacation. Book flights earlier in the day for shorter waits.
There is also a much smaller secondary airport in Orlando, the Orlando-Sanford Airport (SFB). It's about 30 minutes farther from the main Orlando tourist destinations than MCO. Budget airlines such as Allegiant fly into SFB.
Getting to the City and Tourist Attractions
Orlando's central business district is a short 14 miles northwest from MCO, and the theme parks are about 17 miles east of the airport. Since so many visitors come to the area, the routes and signs are easy to find. Of course, if you use an Orlando airport transportation service, your driver will worry about all of that while you look out the window at The City Beautiful, the official nickname for Orlando.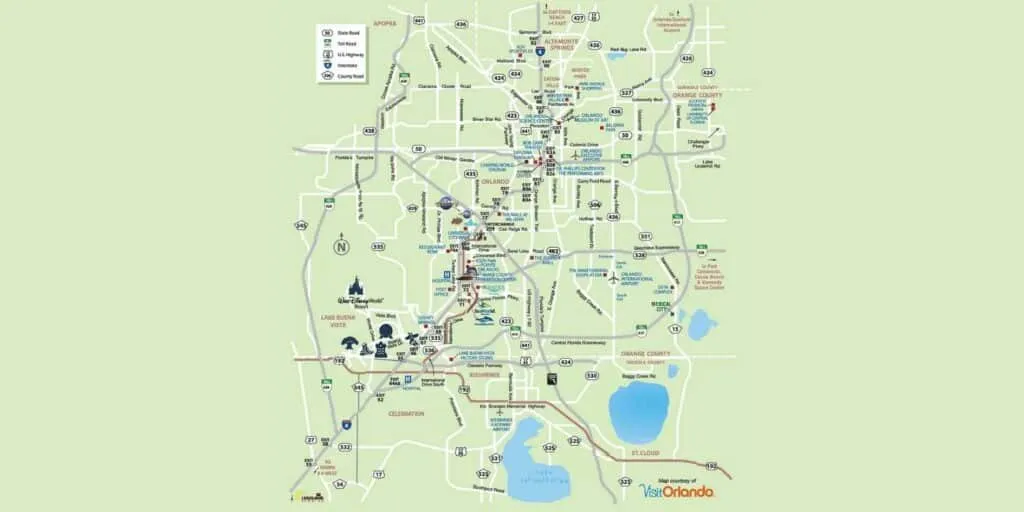 Hassle and Stressful v Ease and Style
The Ruff family decided not to use Orlando transportation services. They arrived at MCO and dragged their luggage to the long line at the rental car office. After waiting 45 minutes in line, they finally got to the counter. The Ruffs had to decide whether or not to pay for extra insurance in fear of a minor ding costing thousands of dollars. They were also informed of having to pay an outrageous price per gallon if they didn't return the gas tank completely full. After this ordeal, they followed a company employee to inspect the vehicle, hoping that every scratch and scuff was noticed because if not, there go a few more hundred dollars. After hoisting the luggage into the miniature trunk, one lucky person had to navigate the unfamiliar streets of a new city to a hotel where they weren't allowed to park anywhere near the entrance. At the many Orlando attractions, the Ruffs had to park up to a mile or more from the park's entrance, wait for a crowded, infrequent tram to take them to the gate, and then repeat everything in reverse at the end of a long, exhausting day. The Brite family arrived the same day as the Ruffs but wisely used Orlando town car services. They were greeted at the airport by Fernando, a friendly, courteous, uniformed chauffeur, who escorted them to a luxury car, loaded their luggage and opened the car doors. He drove the Brites right up to the front door of their accommodations. When the Brites visited Disney World and other attractions, they were dropped off and picked up just a few feet from the entrance. All this with zero hassles or stress, all arranged ahead of time. Plus, the Brites enjoyed that out-of-this-world feeling of luxury, class, and arriving everywhere in style.
> Book a Car Service from Orlando Airport
Orlando Airport Transportation
One great thing about visiting Orlando is that you can do almost everything without the hassle and expense of renting a car. There is a variety of airport transportation services available at MCO with services that improve your stay and experience in this world-class city. One thing is for sure, MCO offers an extensive range of car services! There are options for every traveler and every budget.
Orlando airport car services are for traveling to and from the MCO airport in a passenger vehicle with a professional driver. The service is typically reserved before travel, although arrangements can sometimes be made at the last minute. Orlando airport car services are popular because they are simpler and less stressful than dealing with rental cars, hailing a taxi, or figuring out local public transportation. There is nothing like the relaxed feeling of being driven by a chauffeur in a luxury car. The comfort and convenience are unbeatable.
"Airport transfer" is a more general term that typically refers to travel to and from the airport in a shuttle, limousine, chauffeured passenger car, or any other service that can be booked and paid for ahead of time. Booking in advance removes the stress, and isn't coming to Orlando partly to escape and get away from it all?
To avoid waiting in line, eliminating the crowded conditions on some shuttles, and bypassing the discomfort of hard seats after hours of sitting on a long flight, consider luxury options such as town cars, limousines, and luxury sprinter vans. Orlando airport limo services are robust. Orlando town car services are also plentiful and offered by various professional, top-notch companies. That feeling of luxury? Priceless.
When looking for any type of Orlando transportation service, consider Jayride. Their website will give you a wide range of choices to match your style, needs, and budget. They are the airport transportation service experts!
Shuttle Service, Orlando Airport
An Orlando airport shuttle will offer economy, frequent service, and plenty of space for your luggage and travel companions. Shuttles from Orlando airport to all destinations may be found on the first floor of the terminal. Look for the sign that reads: "Transportation Service for Buses, Taxis, and Hotel Shuttles" for Orlando transportation services.
Smooth Transfers
It's best to make reservations for ground transportation when you book your flight. This way you won't need to worry about the intricacies of navigating an unfamiliar city and airport or the stress of figuring out the details of Orlando transportation services on arrival. Instead, you can focus on the reason for your trip, whether for business or pleasure. Print your confirmation and keep it with your travel documents so they are handy and available even if your luggage is misplaced, your phone battery is dead, or you need to contact the company because of a changed arrival time. Also, consider booking transfers from your home to your home airport to avoid paying exorbitant parking fees and the stress of driving in congested traffic. When you're not driving, you can relax and maybe even sleep a bit!
Not Just for the Airport
You can also book Orlando airport car services for all kinds of trips, not just to and from the airport. You can get from your hotel to any local or regional destination, such as a restaurant or theme park, either just a few miles from your accommodation or to destinations several hours away. The possibilities are endless. Visit sun-soaked beaches, Kennedy Space Center, Daytona International Speedway, Everglades National Park, or even visit relatives or friends living in Florida!
Tipping
A gratuity of between 15% and 20% for chauffeurs is typical. If the service is excellent and you want to especially thank your driver, giving a generous tip of 25% or above is not unheard of and greatly appreciated.
As for shuttle bus drivers, tips are usually calculated in round dollar amounts. Give at least $1 to $2 per person and $5 if you can afford it. If your bags are particularly heavy and the driver helps you unload them, take that into account when deciding on the tip amount. Again, consider giving an even larger tip if the service is exceptional and is in your travel budget. The drivers of shuttles from the Orlando airport work particularly hard because of the sheer number of travelers that pass through year-round.
Top Options for Car Services at Orlando Airport
Execucar– This company offers private Orlando town car services with its fleet of luxury sedans, town cars, SUVs, and vans. It also provides shuttles from Orlando airport with shared van shuttle service. The Execucar mobile app can be downloaded from AppStore or GooglePlay. Tel: 866-435-5686.
Executive Car Services of Orlando – A locally-based Orlando airport car service with a fleet of luxury sedans, SUVs, and vans. Service is available throughout central Florida, including MCO, Orlando, Kissimmee, Disney World, and SeaWorld. Tel: 407-855-4600. Reserve through Jayride.
Fox Transfer Brazil – An international company with transfer and shuttle services at airports in Brazil, Europe, and the United States, including Orlando. Open 24 hours a day, 365 days a year, with guaranteed fixed low-cost fares. Reserve through Jayride.
HeyCars US – Specializes in providing corporate clients and leisure travelers with reliable, safe, and professional chauffeured services at destinations worldwide, including MCO/Orlando. Reserve through Jayride.
Lyft – A worldwide rideshare service, including MCO/Orlando. "Lyft is your friend with a car, whenever you need one." You can reserve a ride through their app or the Jayride website.
MCA Transportation – Provides luxury motor coach accommodations and buses for all occasions and trips. Reserve through Jayride. Tel: 407-226-2256.
Mears – Luxury sedans, SUVs, vans, and limousines, sedan taxis, van taxis, shuttle buses, and bus charters. Mears has a well-designed and convenient app available from AppStore and GooglePlay.
Orlando Private Car Service – Sedans, town cars, SUVs, limousines, etc. Available for short-distance, long-distance, and ultra-long-distance airport transfers. Tel: 407-490-8779
Skippy Transportation Inc. – Luxury vans with seating for up to 14 passengers. Reserve through Jayride. Tel. 407-431-2864
Town Car King, LLC – Limo rentals in the Orlando, Florida area, including MCO. A popular choice for those looking for Orlando airport limo service and Orlando town car services. Reserve through Jayride.
Ultimate Town Car – Lincoln town cars, Chevrolet Suburbans, Ford passenger vans, stretch limousines (Hummers, Escalades, and more), Mercedes Sprinter vans, minibusses, coach buses, and party buses. Tel: 407-844-3580
Via Transportation, Inc. – With a modern fleet of sedans, SUVs, vans, limos, and buses, Via Transportation, Inc. offers airport taxi and car service, corporate car service, and hourly charters. Reserve through Jayride. Tel. 407-747-3933
The Magic
Near the beginning of this post, you read about the vastly different experiences of the Brite family, who used Orlando transportation services, and the Ruff family, who chose not to. We are happy to report that both families are back home safely now. Unfortunately, the Ruffs are telling their friends stories about the parking nightmare when visiting The Wizarding World of Harry Potter at Universal Studios. The Brites only remember the magic!
Make Choosing Easy
When choosing among so many options, it's extremely helpful to have Orlando transportation services experts like Jayride on your side. Whether you're looking for an Orlando airport limo service, Orlando town car services, an Orlando airport shuttle, or anything in between, Jayride has you covered!
COVID-19 Precautions
When visiting the Jayride website to book Orlando airport car service, look for the "COVID-19 Prepared" tag. These companies have at least two procedures in effect to reduce the chance of transmission. This includes drivers wearing masks, hand sanitizer or disinfectant wipes, extra cleansing of the vehicles, and social distancing whenever possible.